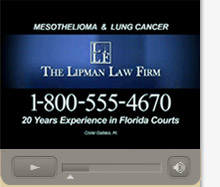 Joe was exposed to asbestos while performing mechanic work on cars, light trucks and heaving machinery primarily between 1978-1994. Joe was diagnosed with mesothelioma in 2004.
More >>

Lipman Law Firm
5915 Ponce de Leon Blvd.,
Suite 44
Coral Gables FL 33146

Toll Free: 1-800-226-2620
Phone: (305) 662-2600
Fax: (305) 667-3361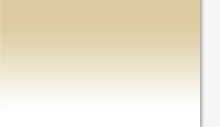 When You Need a Florida Mesothelioma Lawyer, Contact David M. Lipman
David M. Lipman is an experienced Florida Mesothelioma Lawyer, and The Lipman Law Firm has represented over 3000 individuals who have been injured by exposure to asbestos since 1986. Our practice is dedicated mainly to obtaining compensation for mesothelioma victims, whether in the state of Florida or across the country.
If a person worked with or around asbestos or asbestos-containing products, it can take anywhere from 20 to 50 years for any injury to the lung to appear. One can equate this to living next to a time bomb waiting for it to explode. The illnesses resulting from asbestos exposure can be mild or deadly - asbestosis, lung cancer, colon cancer, throat cancer, stomach cancer - and the deadliest of all - mesothelioma.
Most asbestos manufacturers were silent about their knowledge of the deadly nature of asbestos and products made with asbestos. They chose not to tell the laborers who worked with this killer every day. Rather, they thought it was best to have their workers completely unaware of the dangers surrounding them.
You are entitled to compensation if you are suffering from injury as a result of asbestos exposure!
Our Mission, as Mesothelioma Lawyers:
To provide each prospective client with personal attention regardless of whether they have been injured from asbestos or not
To advise each prospective client of their rights and assist them in obtaining compensation if they are suffering from an asbestos related illness
To use our knowledge and expertise to obtain the maximum compensation in each case we undertake
No one should have to endure the devastation to his or her mind and body, which results from asbestos exposure without seeking help. Our many years of experience in working with people suffering from asbestos illnesses gives us the tools to help you if you have been exposed to asbestos. That is reason we felt the need to create this website.


The hiring of a lawyer is an important decision that should not be based solely upon advertisements. Before you decide, ask us to send you free written information about our qualifications and experience.