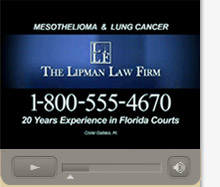 Joe was exposed to asbestos while performing mechanic work on cars, light trucks and heaving machinery primarily between 1978-1994. Joe was diagnosed with mesothelioma in 2004.
More >>

Lipman Law Firm
5915 Ponce de Leon Blvd.,
Suite 44
Coral Gables FL 33146

Toll Free: 1-800-226-2620
Phone: (305) 662-2600
Fax: (305) 667-3361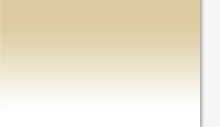 Know Your Rights To Sue for Asbestos Exposure
The following are Frequently Asked Questions regarding ones rights to sue for asbestos exposure. Please click on any question that interests you. If you would like a more detailed answer, or would like to ask any other questions about your rights, please contact us.
is it too late to sue?
It's might not be too late to sue. It is not your fault that the manufacturers of asbestos products keep sealed all the damaging information they knew about asbestos. The industry has feared the day its users of their products would sue them for their cover-up. Well today, the asbestos industry's fears have become their living nightmares. Today, people are able to sue for the asbestos industry's past sins.

According to Florida State law, you have four (4) years from the time of discovering an asbestos related illness (such as from a Doctor's x-ray) to bring an asbestos related lawsuit. This four-year period is called the Statute of Limitations. Remember, the time period does not start from your first or last time of exposure to the asbestos. Because illnesses from exposure to asbestos can take many years before they ever develop, the law only starts counting from the time your diagnosed, not from the time you were exposed to asbestos. After four (4) years from discovery of an asbestos-related illness you cannot file a lawsuit.

The asbestos industry is still paying for its past sins. If you or someone you know, has been exposed to asbestos or suffers from asbestosis, mesothelioma, or asbestos induced cancer, you or they should be aware of your legal rights.
Can You Sue?
In order for us to bring a successful lawsuit, it must first (1) be proven that you were exposed to asbestos products, and second, (2) you must show signs of an asbestos-related disease.

If you do not meet this second criterion, it is still important to watch yourself for any related symptoms (such as shortness of breath, chest pain, and chronic fatigue) of the illness. Although you may have been exposed, it can take many years before symptoms arise.

The time from first exposure to the discovery of illness is called latency. The latency period for asbestosis can range from 10 years to more than 40 years from the first exposure to when the disease is diagnosed. It is important to know that there is no "maximum" latency or time when the risk of developing asbestos-related disease disappears, because the asbestos fibers that can cause disease remain trapped in the lungs for life.
Who We Sue
We do not typically file claims against your employer. Instead, we go up against asbestos manufacturers, distributors, & contractors of the products you were surrounded by. Therefore, it must be proven that you have been exposed to the asbestos product of a specific defendant at specific locations, such as your place of employment.
Product identification:
Since your asbestos-related disease most likely occurred many years ago, it is understandable if you cannot remember the manufacturers of the particular asbestos products that were used on your job site. There is Forkliftalso a chance that you may not know you were even exposed to asbestos - you may not have been told of the ingredients contained within certain job-site products. However, based on the job sites you may have worked at, we can help you identify your place of exposure.
Wrongful Death:
Many manufacturers of asbestos-containing products intentionally withheld critical information to its users about the dangers of their products. If a family member of yours recently passed away due to an asbestos-related illness, your family should not be penalized for finding out too late the dangers of asbestos.

Each state has a Statute of Limitations that will allow family members to sue on behalf of their loved one who unfortunately passed away from an asbestos-related illness. For example, within the State of Florida, a family member may sue on behalf of their loved through the state's Wrongful Death Statute, at any time before two (2) years from their loved one's date of death.

Because these timelines are followed very tightly by the court system, if you have any questions regarding your treatment options or your legal rights, please contact us.
Statute of Limitations
It is very easy to lose your rights to sue. Depending on your state, you only have a certain amount of time, called statutes of limitations, after becoming aware that either (1) you have an asbestos related disease, or (2) after a family member dies from such a disease. It is important to realize that the Statute of Limitations is in regards to when the disease was discovered, not the last time of exposure. Because an asbestos-related illness often does not become apparent for many years, many lawsuits have been successfully filed over twenty years after the last asbestos exposure, for example. Nevertheless, to be entirely certain of your statute of limitations scenario, you should consult with our specialists, as the laws vary in different states.
Because these timelines are followed very tightly by the court system, if you have any questions regarding your treatment options or your legal rights, please contact us.


The hiring of a lawyer is an important decision that should not be based solely upon advertisements. Before you decide, ask us to send you free written information about our qualifications and experience.