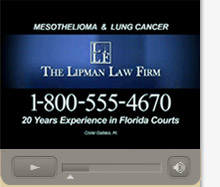 Joe was exposed to asbestos while performing mechanic work on cars, light trucks and heaving machinery primarily between 1978-1994. Joe was diagnosed with mesothelioma in 2004.
More >>

Lipman Law Firm
5915 Ponce de Leon Blvd.,
Suite 44
Coral Gables FL 33146

Toll Free: 1-800-226-2620
Phone: (305) 662-2600
Fax: (305) 667-3361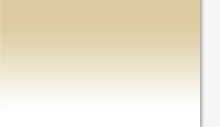 Exposed To Asbestos At Work
Some of the following occupations are typically associated with the onset of mesothelioma later in life:
Automotive Mechanics
Boilermakers
Bricklayers
Carpenters
Cement Finishers
Drywall Workers
Electricians
Engineers
Foundry Workers
Insulators
Lathers
Machinists
Mechanics
Millwrights
Operators
Painters
Paper Workers
Plasterers
Pipe Fitters
Plumbers
Power Plant Workers
Roofers
Sailors (Navy & Merchant Marine)
Shipyard Workers
Steel and Sheet Metal Workers
Welders
If you have been exposed to asbestos, you may suffer from an asbestos-related disease, such as mesothelioma, later in life. Early detection is critical to prolonged survival. Many diagnoses happen too late.
Many of the manufacturers of asbestos insulation products knew that asbestos was hazardous, yet made a business decision not to warn people of those hazards for decades. You may have a right of recovery against those manufacturers, which can help cover the costs of cancer treatment and provide compensation for your suffering.

Our law firm handles mesothelioma cases throughout Florida and the rest of country to ensure that our clients medical bills and suffering are fairly compensated. If you have developed mesothelioma as a result of prolonged exposure to asbestos, contact the Florida mesothelioma lawyers of The Lipman Law Firm today by calling 1-800-226-2620 or using our confidential online case evaluation form.


The hiring of a lawyer is an important decision that should not be based solely upon advertisements. Before you decide, ask us to send you free written information about our qualifications and experience.