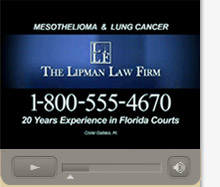 Joe was exposed to asbestos while performing mechanic work on cars, light trucks and heaving machinery primarily between 1978-1994. Joe was diagnosed with mesothelioma in 2004.
More >>

Lipman Law Firm
5915 Ponce de Leon Blvd.,
Suite 44
Coral Gables FL 33146

Toll Free: 1-800-226-2620
Phone: (305) 662-2600
Fax: (305) 667-3361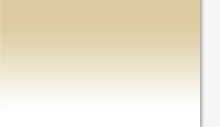 Delayed Onset of Mesothelioma is Common
One unique characteristic of asbestos-related injuries is the long period of time between exposure to asbestos and the onset of injury or disease. This can be anywhere between 15 and 50 years, sometimes even more. So, a person could be exposed to asbestos and not develop mesothelioma until 50 years later!
The average latency period (amount of time the disease is hidden from detection) is approximately 35-40 years. It is estimated that there will be about 250,000 cases of Mesothelioma before 2020. There are currently 2500-3000 new cases of Mesothelioma diagnosed per year, mostly in men, over the age of 40.
About 4,000 People die each year from Mesothelioma. During the 20th century, some 30 million tons of asbestos were used in home insulation, schools, industrial plants, shipyards and commercial buildings throughout the United States.
If you have mesothelioma, or any other asbestos-related disease, chances are you were exposed to asbestos. Many of the manufacturers of asbestos insulation products knew that asbestos was hazardous, yet made a business decision not to warn people of those hazards for decades. You may have a right of recovery against those manufacturers, which can help cover the costs of cancer treatment and provide compensation for your suffering.

Our law firm handles mesothelioma cases throughout Florida and the rest of country to ensure that our clients medical bills and suffering are fairly compensated. If you have developed mesothelioma as a result of prolonged exposure to asbestos, contact the Florida mesothelioma lawyers of The Lipman Law Firm today by calling 1-800-226-2620 or using our confidential online case evaluation form.


The hiring of a lawyer is an important decision that should not be based solely upon advertisements. Before you decide, ask us to send you free written information about our qualifications and experience.