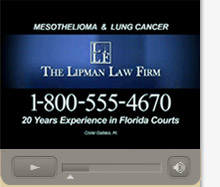 Joe was exposed to asbestos while performing mechanic work on cars, light trucks and heaving machinery primarily between 1978-1994. Joe was diagnosed with mesothelioma in 2004.
More >>

Lipman Law Firm
5915 Ponce de Leon Blvd.,
Suite 44
Coral Gables FL 33146

Toll Free: 1-800-226-2620
Phone: (305) 662-2600
Fax: (305) 667-3361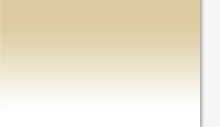 Lung Cancer
Lung cancer is a disease in which the cells of the lung tissues grow uncontrollably and form tumors. It is the leading cause of death from cancer among both men and women in the United States.
The American Cancer Society (ACS) estimated that in 1998, at least 172,000 new cases of lung cancer were diagnosed, and that lung cancer accounted for 28% of all cancer deaths, or approximately 160,000 people. In 2002, the ACS reported that more than 150,000 Americans die from the disease every year. Only 15 percent of people with lung cancer will live five years.
Types Of Lung Cancer
There are two kinds of lung cancers, primary and secondary. Primary lung cancer (also called adenocarcinoma) starts in the lung itself. Primary lung cancer is divided into small cell lung cancer and non-small cell lung cancer, depending on how the cells look under the microscope. Secondary lung cancer is cancer that starts somewhere else in the body (for example, the heart or stomach) and spreads to the lungs.

The hiring of a lawyer is an important decision that should not be based solely upon advertisements. Before you decide, ask us to send you free written information about our qualifications and experience.